Mike and I checked another restaurant off our list a week ago this past Saturday. I've had a lot to blog about lately so my review (lol)keeps getting delayed. We decided to try the, cleverly named, Great Indian Restaurant in Moline. It's really the only Indian place in the QC anymore, but came highly recommended from a coworker of mine. We arrived for a late dinner, around 9. When we walked in I thought the atmosphere was quaint with a good amount of character. Not the classiest of places, but clean, comfortable and lots of personal touches making it a cozy nook. After looking at the menu we decided to go the easy route and try the vegetarian dinner for two along with a couple sodas since we'd had a couple pre-dinner drinks. The way the vegetarian dinner for two works is you receive a first course of soup:
The soup was very light and full of flavor, Mike and I both enjoyed it.
Next up appetizers. There were 6 appetizers total, 2 of each type so we could each try one. Each of the appetizers were in some sort of pastry shell; green peas, potatoes, carrots mixed with ginger, cumin, marsala and curry were some of the vegetables and spices I could pick out. One of the appetizers I did recognize were the samosas. Along side of the delicious dipping sauces these pastry puffs were inhaled.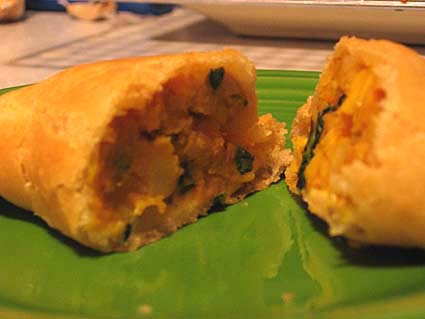 Entree selection was the only part of the dinner we actually had to pick. We were given a choice of two types of paneer, we chose the matar paneer. We also selected two entrees all served with rice. I can't remember the names now, but one was more potato and tomato based, the other lentil based. By far, our favorite was the paneer. If you really want to get a feel for the true flavors and spices used in Indian food paneer is the way to go. Paired with nan, the bread served with the entrees, this made for a great meal.
Naan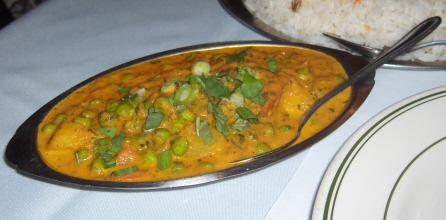 Matar Paneer
The thing to remember when eating Indian food is that it is extremely filling because of all the rich sauces the veggies are cooked in. I was stuffed at this point, but still managed to save room for rice pudding.
What a meal we had at the Great Indian Restaurant, Mike even had leftovers to take to work on Monday. The only downfall was, we were both so full we couldn't really drink the rest of the night, so we went to a bar and played a few rounds of pool to work it off!